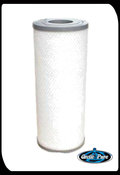 drop in Silver Sentinel (without handle) 1 pack
Silver Sentinal Disposable Hot Tub Filters
Silver Sentinal hot tub filters are made from hundreds of layers of porous polypropelene (the same material as plastic drink bottles). The water is filtered each time it travels through a layer, and each layer captures a smaller particle. This means you can filter more stuff out of your hot tub water in less time. The filter typically works for 3 months then it is simply tossed in the recycle bin. No more cleaning! No more buying hot tub filter cleaner! Considering the time saved and the decrease in the amount of chemicals needed, the cost of Silver Sentinal filters is less than typical pleated paper spa filters.
Silver Sentinal disposable hot tub filters are compatible with most hot tubs. There are hundreds of different sizes so the best way to make sure it will fit is to bring your old filter to one of our retail stores.
This Filter should be put in your Arctic Spa if it is a Pre-09, and has no handle on the top. Check out the Filter Specials we have on this item!
---
We Also Recommend